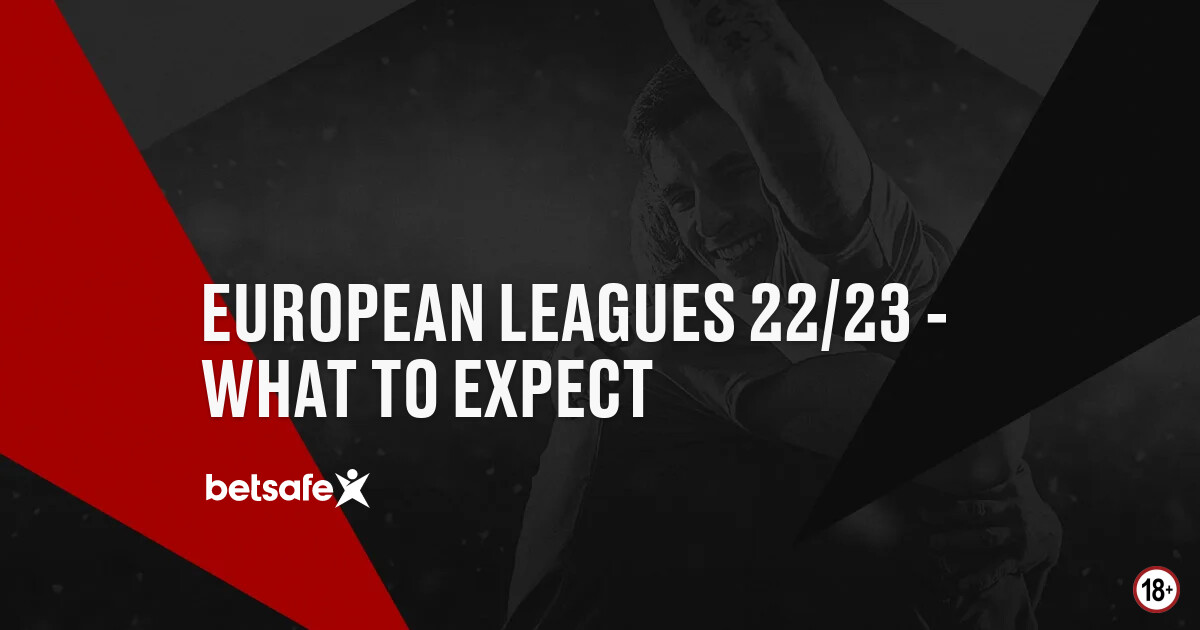 The 2022/23 European season will be like no other. For the first time in the tournament's history, the World Cup will be taking part in the northern hemisphere winter rather than summer. Temperatures in Qatar are too hot to play football in June and July, so the competition has been switched to November and December.
The European leagues have had to adapt – and they have done so in slightly different ways. How well a team deals with the unprecedented disruption will be a key factor in how they perform this term.
We have taken a look at what to expect from the 2022/23 campaign in the Bundesliga, La Liga, Ligue 1 and Serie A. We have also thrown in the Europa League for good measure.
Bundesliga
Season dates: 5 August 2022 – 27 May 2023
World Cup break: 14 November 2022 – 20 January 2023
Reigning champion: Bayern Munich
Even before the campaign got under way in Germany, football supporters were ready to crown Bayern Munich as the Bundesliga champions. Their title triumph last season was their 10th in a row, and the disparity in resources between Bayern and the rest of the division means they are bound to finish in top spot once again.
In the unlikely event that Julian Nagelsmann's side slip up, Borussia Dortmund are best placed to capitalise. They lost their Norwegian star striker in the summer, though, and would no doubt settle for finishing as runners-up ahead of the likes of Bayer Leverkusen and RB Leipzig.
Fun fact: RB Leipzig are the only club from the former East Germany in the Bundesliga.
La Liga
Season dates: 12 August 2022 – 4 June 2023
World Cup break: 14 November 2022 – 29 December 2023
Reigning champion: Real Madrid
Despite having debts totalling around €1.3 billion, Barcelona have splashed the cash in the summer transfer market. They have taken a huge gamble – the club is funding its purchases by in effect selling off future revenue streams – but it should at least result in a more competitive team this season.
Whether Barcelona will be able to topple Real Madrid remains to be seen. Carlo Ancelotti's side are the reigning Spanish and European champions, and a settled squad could work to their advantage. Atletico Madrid will also hope to challenge for the title.
Fun fact: Diego Simeone is the longest-serving manager in Europe, having taken charge of Atletico Madrid in December 2011.
Ligue 1
Season dates: 5 August 2022 – 4 June 2023
World Cup break: 14 November 2022 – 28 December 2022
Reigning champion: Paris Saint-Germain
To understand the extent of Paris Saint-Germain's superiority in Ligue 1, consider that they won the title by 15 points last season but were still disappointed at the end of it. A lack of progress in the Champions League continues to frustrate the capital club, who sacked Mauricio Pochettino and replaced him with Christoph Galtier over the summer.
With a front three of Lionel Messi, Kylian Mbappe and Neymar, PSG are bound to win the title at a canter. The battle for second and third, the two other Champions League spots, will be much more interesting, potentially featuring the likes of Marseille, Monaco and Lyon.
Fun fact: Despite their recent dominance of Ligue 1, Paris Saint-Germain are not yet the outright most successful team in the division's history – Saint-Etienne have also won 10 titles.
Serie A
Season dates: 13 August 2022 – 4 June 2023
World Cup break: 14 November 2022 – 4 January 2023
Reigning champion: AC Milan
Serie A was home to the most exciting title race in Europe's major leagues last season, and there is a belief that it could produce another fascinating tussle in 2022/23. AC Milan are the defending champions after they lifted the trophy in May, but Juventus look ready to challenge under Max Allegri and Inter, despite financial issues, have strengthened over the summer.
The race for the top four will also be well worth watching, as those three sides attempt to fend off challenges from the likes of Napoli, Lazio and Roma. The latter team will be particularly intriguing to follow as Jose Mourinho attempts to build on a positive first season back in Italy.
Fun fact: Of all the European leagues covered here, Serie A has the fewest foreign managers (three).
Europa League
Season dates: 8 September 2021 – 31 May 2023
World Cup break: 4 November 2021 – 16 February 2023
Reigning champion: Eintracht Frankfurt
Usually, the Europa League group stage runs from September to December, but the World Cup means all six rounds of matches will be squeezed into just eight weeks. That will no doubt have a knock-on effect on domestic leagues, with teams in the Europa League forced to regularly play two games per week.
There are plenty of big clubs in this season's edition of the competition, including Arsenal and Manchester United from the Premier League, Roma from Serie A, and Real Betis and Real Sociedad from La Liga. Keep an eye out, too, for Bundesliga overachievers Union Berlin and Freiburg.
Fun fact: None of the five most successful clubs in Europa League history (Sevilla, Atletico Madrid, Liverpool, Inter and Juventus) will be competing in the competition this year.
---