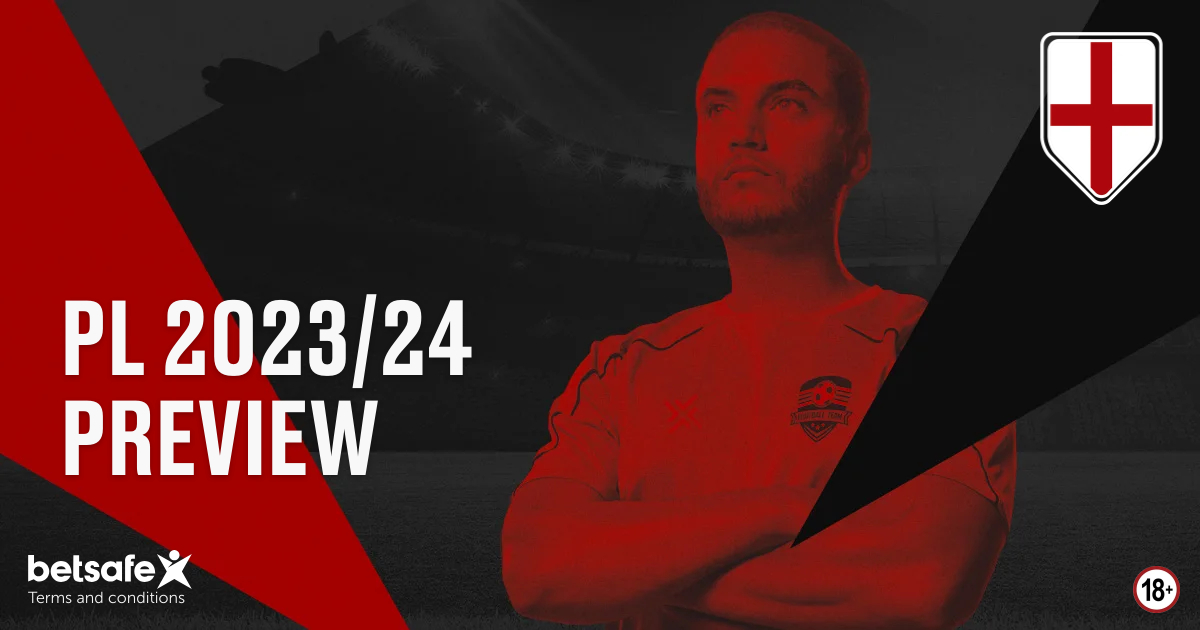 After a lengthy summer break the new PL season is almost upon us, with the action in 2023/24 set to begin on August 11.
---
---
There is plenty to look forward to in the upcoming campaign. Manchester City, Liverpool and Arsenal all have title aspirations, while Chelsea, Tottenham Hotspur and Manchester United will be looking to kick on from last term.
Burnley, Sheffield United and Luton Town won promotion from the Championship in 2022/23 and all three sides will be striving to stay in the top flight this time around.
In this article we have picked out some key dates for your diary and provided the lowdown on all 20 teams taking part in the PL in 2023/24.
---
Important Dates
Friday 11 August 2023: Opening game
Tuesday 5 December 2023: First midweek round of fixtures
Saturday 13 January 2024 – Tuesday 30 January 2024: Mid-season break
Sunday 25 February 2024: EFL Cup final
Sunday 19 May 2024: Final weekend
Saturday 25 May 2024: FA Cup final
---
PL Teams
---
Arsenal
Arsenal exceeded expectations in finishing as runners-up last season. Another title tilt is to be expected after the arrival of Kai Havertz, Declan Rice and Jurrien Timber, but Mikel Arteta's men may fall just short again. Do not be surprised to see them challenge, though.
Fact: Arsenal are the only team in England's top flight that has never been relegated.
Prediction: 3rd.
---
Aston Villa
Unai Emery turned Aston Villa's season around in 2022/23, turning them from relegation candidates to European qualifiers. Expectations have now risen but Emery's status as a top-class manager is a huge plus for Villa, who should finish in the top half once more.
Fact: Aston Villa director William McGregor founded the Football League in 1888.
Prediction: 8th.
---
Bournemouth
Written off for most of last term, Bournemouth upset the odds by avoiding relegation to the Championship. Nevertheless, Gary O'Neil was sacked earlier in the summer, with Andoni Iraola appointed in his place. The Cherries could be set for a season of struggle.
Fact: Bournemouth's official name was Bournemouth & Boscombe Athletic until 1971.
Prediction: 19th.
---
Brentford
Brentford will be without their suspended talisman Ivan Toney for the first half of the season, which is a huge blow to the west Londoners. A well-run club, they should still avoid relegation – but a top-half finish could be beyond the Bees this time around.
Fact: Brentford manager Thomas Frank is a trained sports psychologist.
Prediction: 14th.
---
Brighton & Hove Albion
Brighton were one of the stories of the PL season in 2022/23 and they will now be determined to prove their sixth-place finish was no fluke. The Seagulls have lost a couple of key players, though, and they will have to balance domestic and European commitments.
Fact: Brighton will play European football for the first time in their history this season.
Prediction: 9th.
---
Burnley
Burnley are back in the top flight after a one-year absence. Sean Dyche left in 2022 and Vincent Kompany introduced a very different style of play at Turf Moor, where simply staying up will be the priority. Burnley look well equipped to finish above the dreaded dotted line.
Fact: Burnley are two-time champions of England following their title triumphs in 1921 and 1960.
Prediction: 12th.
---
Chelsea
Last season was a nightmare for Chelsea, who spent £600m and did not get anywhere near the top eight, never mind the top four. Mauricio Pochettino should right some of the wrongs but it will likely take the Argentine some time to make Chelsea title challengers again.
Fact: Chelsea finished in the bottom half of the Premier League last season for the first time since 1996.
Prediction: 5th.
---
Crystal Palace
Wilfried Zaha's exit means they will be weaker in attacking areas than they were last season. Roy Hodgson steadied the ship in 2022/23 and he will probably keep Palace's heads above water this year too.
Fact: Crystal Palace are about to enter their 11th consecutive season in the Premier League, their longest ever unbroken spell.
Prediction: 13th.
---
---
Everton
After back-to-back relegation battles, Everton fans are hoping for a less eventful campaign this time. They might not get it, though: Sean Dyche is an excellent manager but off-field events continue to hang over the Merseyside outfit.
Fact: This is set to be Everton's last season at Goodison Park before the club moves to its new stadium.
Prediction: 15th.
---
Fulham
Last term Fulham punched above their weight under the astute management of Marco Silva, finishing in the top half. They will be hoping that second season syndrome does not bite, but ending the 2023/24 campaign in 10th place or above will be a tall order.
Fact: Fulham are London's oldest professional club currently competing in the top division.
Prediction: 16th.
---
Liverpool
Liverpool slumped to a fifth-place finish last time out, missing out on CL qualification despite a late-season rally. Refreshed and strengthened, Jurgen Klopp's side should push Manchester City much closer in this year's title race.
Fact: Liverpool's Jurgen Klopp is the longest-serving manager in the PL.
Prediction: 2nd.
---
Luton Town
Championship play-off winners in 2022/23, Luton are the favourites for relegation but they will not necessarily mind that. Kenilworth Road is a tough place for opposition teams to go and the Hatters will be particularly hard to beat on home turf.
Fact: Luton were competing in the fifth tier of English football as recently as 2014.
Prediction: 18th.
---
Manchester City
Manchester City won the treble of the PL, FA Cup and the CL last season, and they are again the team to beat in each of those tournaments. It is hard to see how anyone can keep pace with Pep Guardiola's side over the course of a 38-game campaign.
Fact: Manchester City are seeking to become the first team in English football history to win six titles in seven years.
Prediction: 1st.
---
Manchester United
Manchester United have not mounted a sustained title tilt since Alex Ferguson retired in 2013 – could this be the year? Erik ten Hag's side are certainly on the right track but it is hard to see them finishing above each of Manchester City, Liverpool and Arsenal.
Fact: Manchester United have included an academy product in their matchday squad in every league game since 1938.
Prediction: 4th.
---
Newcastle United
Newcastle have high ambitions under their Saudi ownership, with a PL title the ultimate goal. But Eddie Howe has no experience of balancing domestic and European competitions, so the Magpies will struggle to achieve another top-four finish.
Fact: Newcastle are back in the CL for the first time since 2002/03.
Prediction: 7th.
---
Nottingham Forest
Nottingham Forest stayed up last season in spite of – not because of – their slapdash approach to recruitment. A repeat this summer is unlikely but Steve Cooper's side may have to brace themselves for another relegation battle.
Fact: Nottingham Forest are one of only 13 clubs across Europe to have won the CL more than once.
Prediction: 17th.
---
Sheffield United
Sheffield United are back in the big time after finishing second in the Championship last season. But with little money to spend in the summer transfer market, the Blades face an uphill battle to avoid an immediate return to the second tier.
Fact: Sheffield United's Bramall Lane is the oldest stadium still to be hosting professional matches.
Prediction: 20th.
---
Tottenham Hotspur
Ange Postecoglou has been tasked with improving the mood and the style of play at Tottenham after their disappointing season in 2022/23. Spurs could challenge for the top four if Harry Kane stays put, but the striker's future remains uncertain at the time of writing.
Fact: Tottenham were the first club in the 20th century to win a league and FA Cup double.
Prediction: 6th.
---
West Ham United
West Ham spent much of last season looking over their shoulder at the bottom three. They will not want to do the same in 2023/24, with David Moyes likely to target a top-eight finish instead. The Hammers will miss Declan Rice, though.
Fact: West Ham won their first major European trophy when they triumphed in the ECL last term.
Prediction: 10th.
---
Wolverhampton Wanderers
New manager Gary O'Neil will be targeting a mid-table finish at a minimum in the upcoming campaign.
Fact: Wolves were originally founded as St Luke's before they adopted their current name in 1879.
Prediction: 11th.
---